Everyone strives to have a home that is "uniquely theirs", and if you're looking to appoint a builder for your new build project, we're here to help. From small properties to large sites, we will work with you from day one to build a home that reflects your requirements, lifestyle and budget.
A home just for you
A new home is more than just the sum of its parts – it's your place of sanctuary, somewhere you relax, raise a family, entertain and realise your dreams. We're proud of the new build projects we've completed with previous clients and would welcome the opportunity to build something new with you.
Any home, any style
We're experienced in undertaking all forms of new build projects from bold contemporary designs to sympathetic classical structures, using modern or heritage techniques and materials. Your requirements for your new home will be assessed at every stage of the project to ensure your satisfaction, discuss any changes and maintain your peace of mind.
Trust our experience
As members of the Federation of Master Builders, you can take confidence in our broad skillset and of the quality of the work we produce. Our knowledge of local council requirements or conservation area stipulations will help you avoid any unforeseen hurdles.
The construction specialists
Based in Harrogate, North Yorkshire we're specialists in all types of construction work, from new builds to barn conversions, landscaping and extensions. We pride ourselves on being a reliable,professional and personal building service.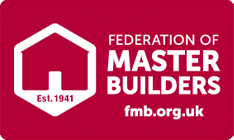 Can we help?
contact us today